Upcoming Events
We have several events designed to help you experience American culture and make new friendships with each other as well as American students.
October 2018
---
Halloween Party
Saturday, October 27th, 2018
Come enjoy a Halloween Party like no other! Featuring free food, line dancing, face painting, pumpkin bowling, video games, and a custom haunted house!
---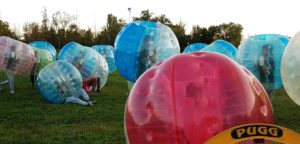 2018 CAIR Kickoff Bubble Soccer
Friday, September 28 at 6pm
Experience the fun of Bubble Soccer at our 2018 Creating American International Relationships (CAIR) Program Kickoff! Free food, games, and of course, bubble soccer! Free for all students and volunteers.
---